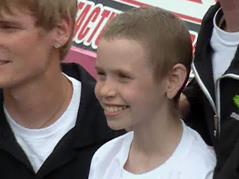 6/5/2007
---
Inside Track: Pink My Ride
It was a record-breaking weekend for the Children's Miracle Network...raising over a million dollars for local sick and injured children. But it was also a special weekend for this year's CMN champion, Cylie Pastian.
For the last few weeks, Lyndon Johnson and the Children's Miracle Network have been hard at work...getting ready to grant one little girl a colorful wish.
Oh I think she's going to be excited," says Johnson. "I hope she is anyway. I'm sure she will be."
Cylie Pastian is Lyndon's niece, and for almost a year she's fought a battle most of us couldn't imagine. And her cancer has put his family's hobby into perspective.
"You go to the track each night, you really get wound up in what you're doing. Some nights you get excited, some nights you get really upset," explains Johnson. "But, in the scope of everything, you take a little girl like Cylie and you see what she's going through...It's nothing."
With that in mind, Johnson bucked his own personal preference, and brightened the bodies of his sons' race cars.
"The pink is for Cylie...Cylie's favorite color is pink, so that's why we wanted to do it," said Johnson.
Cylie's cousin Tyler Johnson, who drives the 91-car added, "Cylie always told us she wanted a pink race car, and being guys we didn't think the pink race car was quite our deal. So, it was kind of a surprise to us, and dad put that whole deal together."
Days later, Cylie would catch her first glimpse of these custom rides.
"Oh, it's pink.," exlaims Cylie.
And with that reaction, the hours of preparation were instantly rewarded.
Cylie's cousin Tracy Johnson, who drives the 19-car says, "Its a lot of work as you're doing it, but when you get here and you see everyone smiling and everyone laughing, it really doesn't seem like any work at all."
"To be able to come here and see the expressions on Gary and Karen's faces, and Cylie's face, when they saw the pink cars," adds Tyler. "It makes it a whole lot better."
And while Tracy and Tyler say they have no plans of making the pink permanent, the color signifies a cause for Cylie.
"She went through an awful lot, so I think painting a race car pink is pretty minor compared to all the stuff that she had to go through," says Tyler. "So really it just means a lot that we can put a smile on her face and do something to make her happy for all the stuff she's had to go through in the past few months."
More than 600-dollars was raised for the Children's Miracle Network on Saturday through donations made at I-90 Speedway. And because of that success Tyler and Tracy say fans could get another chance to see them in pink this season. There's talk of running the special cars again on Saturday, July 28th. That's nearly one year to the day that Cylie's cancer was diagnosed.
---
Article Credit: Travis Fossing - Keloland
Back to News