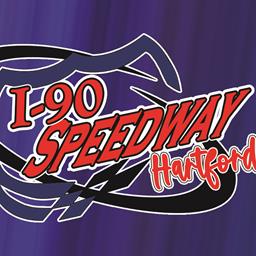 ---
Special events and weekly racing highlight 20 event I-90 Speedway schedule
Twenty nights of action will bring numerous special events and exciting weekly racing to Hartford, South Dakota's I-90 Speedway during the upcoming 2023 season.
The Buffalo Wild Wings Northern Outlaw Sprint Association brings 410 sprint cars back to I-90 Speedway for the first time since Austin Pierce took the win in early 2021. However, for the first time in track history, the NOSA 410s will invade on two occasions, doing first on May 27 before returning on July 22.
Sprint car fans have two other special visits to remember, the Midwest Sprint Touring Series brings 360 sprint action back to Hartford in 2023. The racing royalty of MSTS take to the three-tenths mile oval on June 10 and July 15.
A special two-day show will showcase the talents of the local and national drivers of the IMCA RaceSaver Sprint Car Series. The July 30 and July 1 Freedom Classic will offer additional payout money for the IMCA sprint cars with a draw/redraw format. The Saturday portion of the event will also feature fireworks following the racing program.
Joining the Spielman Excavating IMCA Sprints Cars at the Freedom Classic are the rest of the divisions that will make up the four classes of the RPM Race Series – the weekly feature of I-90 Speedway. The RPM Race Series also includes the Late Model Street Stocks, USRA B-Modifieds and www.LawnSnow.com USRA Hobby Stocks.
Hartford Night, an annual fan favorite with free admission for Hartford and Humboldt residents during Jamboree Days, returns this year on June 17. A special powderpuff event will also be held with the RPM Race Series on Aug. 19. The Late Model Street Stocks and Hobby Stocks will each get to participate in a pit stop challenge and a king of the hill challenge with those specials scheduled through August and into September.
A new event will run in conjunction with the RPM Race Series on July 29 – the Jackrabbit Challenge. Details of this event will be released at the start of the race season – but it is safe to say that nothing like this has ever been contested in the history of the speedway.
The first event of the year will be held on May 6 and the season wraps up with championship night on Sept. 9. The entire schedule can be viewed at I90speedway.com. Track management is currently discussing additional traveling series events and specials that will be announced once finalized.
---
Submitted By: Shawn Neisteadt
Back to News