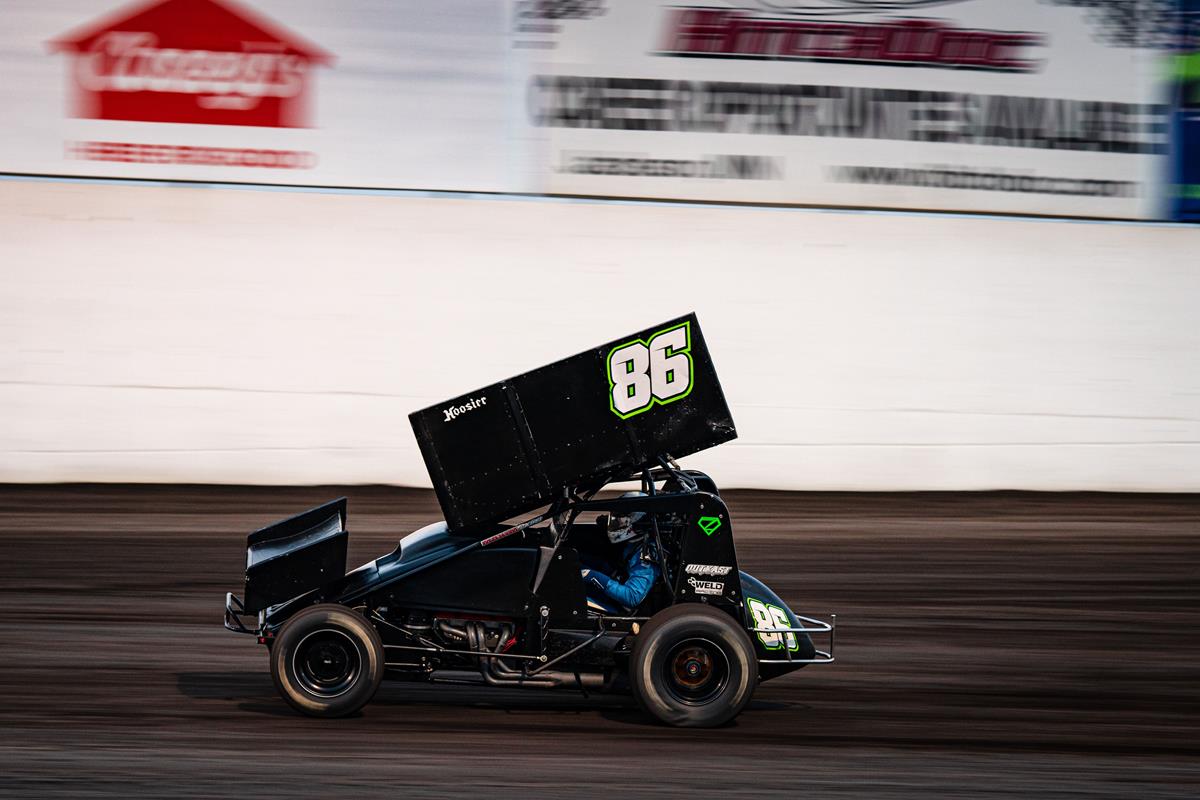 8/3/2021
Inside Line Promotions
---
Amdahl Scores Season-Best 360 Finish at I-90 Speedway
(Photo by Tylan Porath Photograhy)
Inside Line Promotions – BRANDON, S.D. (Aug. 3, 2021) – Elliot Amdahl raced to a season-best finish in Steve Ziebarth's 360ci sprint car with a second-place run last Saturday night at I-90 Speedway with the Midwest Sprint Touring Series.
"We had a good car in the feature," Amdahl said. "We struggled a little in the heat race, mainly because the track was so rough, but we were lucky enough to make the redraw and draw the pole.
"We led 22 of the 25 laps. Following a restart with seven laps to go, I chose to move to the top because I felt some of the guys behind me were running there, but it turned out they weren't. I did okay up there at first, but then I got into some of the holes and that allowed Jody Rosenboom to get by me with three laps to go and we wound up second.
"But I was really happy with the way our night went. Jody's been really fast lately and we finished ahead of Jack Dover, who's always fast, so it was good to be competitive with those guys. It was a nice boost to our confidence. We've been fast, but we haven't had many good finishes so it was good to get one."
The following night Amdahl invaded Huset's Speedway for 305ci competition. It started out well for Amdahl, but resulted in a rare feature race in which he didn't move forward.
"We have a high point average at Huset's so we have to start back a ways," he said. "We went from sixth to third in our heat race and then started 10th in the feature.
"Unfortunately, we misjudged how the track would change and missed the setup. Our car became tighter and tighter as the race went on and the track became more one lane rather than becoming racier like it usually does. We ended up 12th, which was disappointing because we haven't gone backwards in our 305 in a long time. It was an off night for us, but we learned things and we'll move forward."
Amdahl is looking forward to competing in this week's 31st annual My Place Hotels 360 Knoxville Nationals presented by Great Southern Bank at Knoxville Raceway in Knoxville, Iowa, where he'll qualify on Thursday. The event concludes on Saturday.
"We're happy to have some momentum from our 360 after Saturday night and hoping to carry it forward to Knoxville," said Amdahl, who finished seventh in last year's Saturday night D Main.
"We're hoping to get our car comfortable right away in hot laps. My goal is to qualify in the top 25. That would give us a good starting spot in our heat race and give us a shot at a top-four finish, which would put us in the A Main for that night. We're hoping to get enough points to start in the C Main on Saturday and give us a chance at passing some cars."
QUICK RESULTS –
July 31 – I-90 Speedway in Hartford, S.D. – Heat race: 4 (5); Feature: 2 (1).
Aug. 1 – Huset's Speedway in Brandon, S.D. – Heat race: 3 (6); Feature: 12 (10).
SEASON STATS –
25 races, 0 wins, 6 top fives, 15 top 10s, 18 top 15s, 21 top 20s
UP NEXT –
Thursday and Saturday at Knoxville Raceway in Knoxville, Iowa, for the 31st annual My Place Hotels 360 Knoxville Nationals presented by Great Southern Bank
MEDIA LINKS –
Twitter: https://twitter.com/EARracing
Facebook: https://www.facebook.com/elliotamdahlracing
SPONSOR SPOTLIGHT – Liberty Blades
Located in Flandreau, S.D., and owned and operated by Cody Amdahl, Liberty Blades provides agricultural spraying from a helicopter. Liberty Blades services fields from Sioux Falls to the North Dakota border.
"Liberty Blades is owned by my cousin, Cody," Amdahl said. "This is his third year of supporting our racing team and we appreciate his help. We're proud to represent one of our family businesses."
Amdahl would also like to thank BHK Trucking, Dells Auto, REA Hybirds, Amdahl Beef, Cressman Sanitation, Sea Foam, B&B RV Storage & Service, Hughes Racing, Last Deck, Rockstar, Flandreau Vet Clinic and 212 The Boiling Point for their continued support.
INSIDE LINE PROMOTIONS –
Inside Line Promotions specializes in affordable public relations and media management for motor sports drivers, teams, sponsors, tracks, series, events, organizations and manufacturers. ILP Founder Shawn Miller leverages professional journalism with new media technologies and social networking to improve your exposure and the return on investment for your sponsors.
To meet the media relations needs of your program by joining Team ILP, contact Shawn at 541-510-3663 or Shawn@InsideLinePromotions.com. For more information on Inside Line Promotions, visit http://www.InsideLinePromotions.com.
---
Article Credit: Inside Line Promotions
Submitted By: Shawn Miller
Back to News